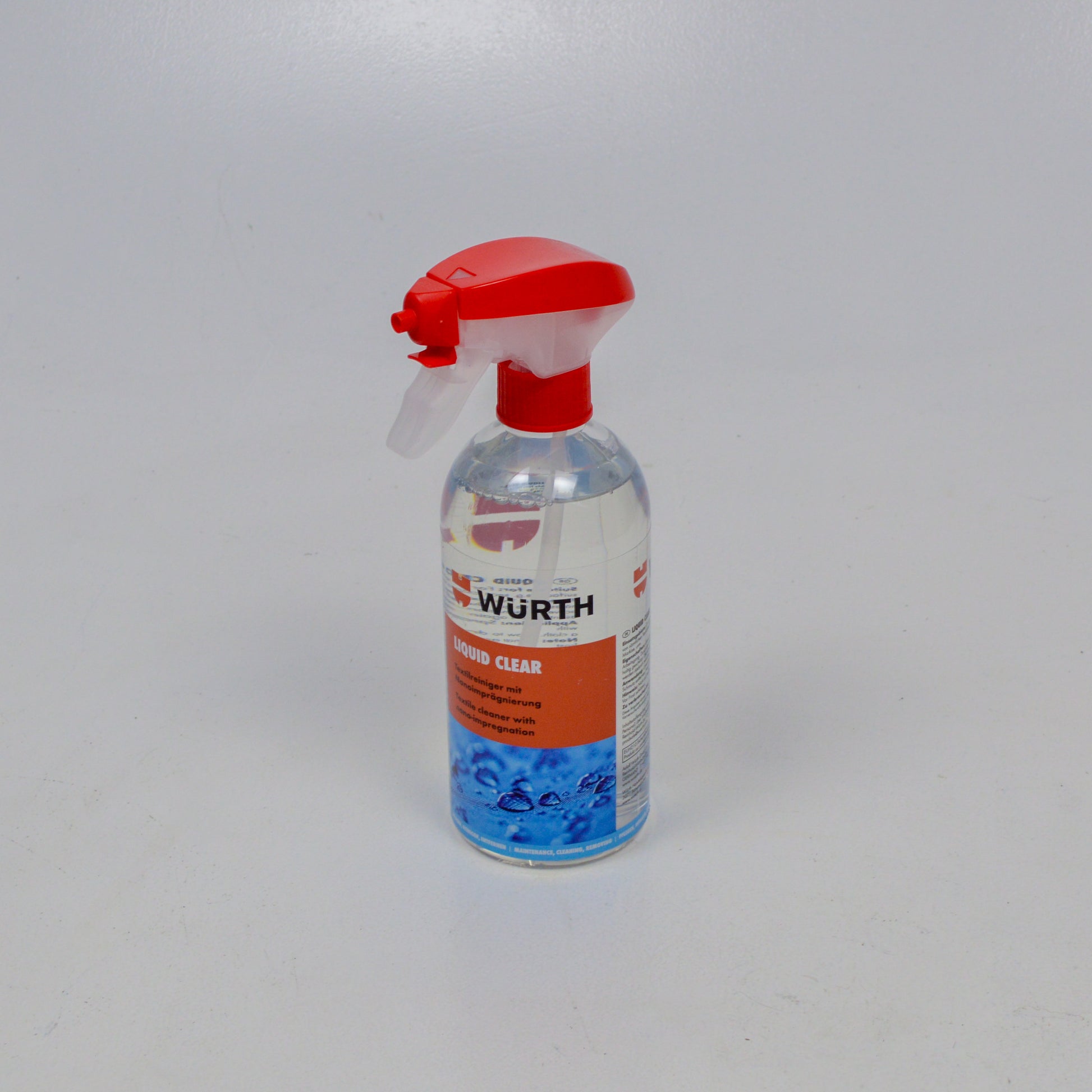 Würth textile cleaner Liquide Clear, multifunctional textile cleaner with nano-impregnation
selling price
29,90 €
Regular price
including VAT, excluding shipping
Estimated delivery date: 1.12 - 5.12

Free shipping: For all orders over €150 within Germany

Pay securely with
Please pay attention to whether the item is new or used. Further information in the description!
Würth textile cleaner Liquide Clear, multifunctional textile cleaner with nano-impregnation
selling price
29,90 €
Regular price
Description
Shipping & Returns
Würth Multifunctional Textile Cleaner Liquid Clear with nano-impregnation is offered
OE number/comparison number
0893474200
Condition
This is a new item.
Description

Cleans and impregnates in one step
Water and oil absorption as well as the soiling behavior against discoloring substances (coffee, juice) are reduced
Cleaning up new dirt is made easier.
Time and cost saving
Transparent liquid
No danger on light textile surfaces
Invisible, wafer-thin surface film
Geruchsneutral
Does not contain allergenic fragrances
No disturbing scent mixtures in the vehicle interior
Simple and practical application
After drying, no additional treatment is necessary
Based on an aqueous solution, so no special safety measures are necessary during use
 Excellent material compatibility
Can be used in a variety of ways with all textiles
No impairment of textile properties
 The surface-active impregnation provides textiles with lasting protection
Textiles remain supple and breathable
Good resistance to mechanical friction
Notice
Do not use on hot surfaces or in direct sunlight. Don't let it dry out. Protect from frost.
The processing information is recommendations based on our experiments and experiences; Before each application, you must carry out your own tests. Due to the large number of applications as well as the storage and processing conditions, we do not guarantee a specific processing result. To the extent that our free customer service provides technical information and provides advice, this is done to the exclusion of any liability, unless the advice or information is part of the contractually agreed scope of services owed to us or the consultant acted intentionally. We guarantee consistent quality of our products; we reserve the right to make technical changes and further developments.
field of use
For deep pore cleaning of all textile surfaces, e.g. E.g. seat cushions, carpet, convertible top, awning, etc. m. Well suited for smooth leather.
Instructions
Spray on undiluted, allow to take effect briefly and remove the dirt with a brush. Repeat the process if necessary. To intensify the impregnation effect, spray thinly again after the cleaning process. For light contamination, dilute up to 1:10 in a spray extraction device. Allow the surface to dry thoroughly after application.
Tip:
With regular use (in concentrated form) the impregnation effect develops even better. As the dilution increases, the waterproofing and cleaning effect decreases.
Technical information
Contents

500 ml


Smell/Fragrance

neutral


container 


spray bottle

 
Shipping Germany:
Within Germany the shipping time is 2-4 working days.
For a shopping cart value of 0-40€, the shipping costs are 3.20€.
For a shopping cart value of €40-100, shipping costs are €4.50.
For a shopping cart value of €100-150, shipping costs are €5.50.
Shipping is free for orders over €150.
Shipping Europe / Worldwide:
For shipping within the EU, the shipping time is 2-7 working days.
Shipping prices are calculated individually. Further information can be found at our subpage
Returns:
We offer you a return option within 30 days of receiving the goods.
Please note that the buyer is responsible for return shipping.
If an item arrives damaged or defective, we ask you to contact us directly. contact us under hilfe@smartparts24.de and we will help you immediately.
We attach great importance to ensuring that you are satisfied with your purchase from us. If you have any questions or concerns about shipping or returns, please do not hesitate to contact us. Our customer service is always available.
Please note that this information is only a summary. Please see our Terms and Conditions for further details on shipping and returns policies.